Here is a better picture of Paddock's tatoo of the number 13 on his neck. Plain as day!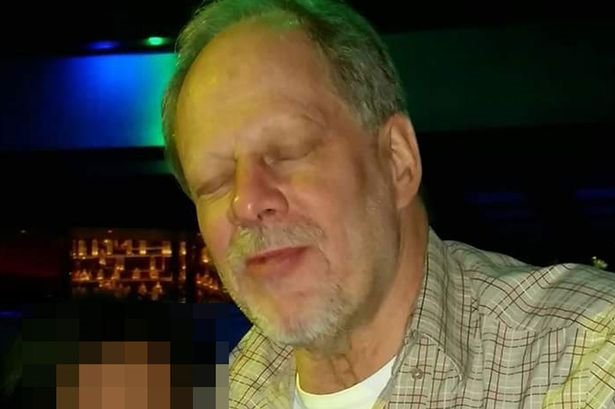 ---
The maintenance folks at the Mandalay Bay indicated the windows can be removed by maintenance, for maintenance. Was designed this way! Part of the false flag is the fact that they broke those other 2 windows for the reason of deniability concerning the 4th floor!
---
Posts: 19
Joined: Wed Jul 26, 2017 9:38 am
---
http://freedomdaily.com/breaking-second ... sted-look/
According to breaking news from CNN, Mandalay Bay security guard Jesus Compos has just been arrested by Las Vegas authorities as being the second shooter in the massacre that took the lives of 59 and injured more than 500 others. CNN reported:

Jesus Campos had originally been praised for his apparent heroics on October 1st, as he supposedly rushed to Paddock's suite, was shot in the upper thigh through the door, and continued to help get people to safety despite his wounds. However, FBI officials involved in the investigation now believe he was an accomplice of Paddock's, and was involved in the initial shooting as a second gunman from the other broken window in Paddock's 32nd-floor room.

According to a senior FBI official, authorities became suspicions by the extreme amount of gunpowder residue found on Campos' hands and inconsistencies in his timeline of events. "We believe he killed Paddock, shot holes through the door and his own arm to produce physical evidence for his cover story, then went and lay next to the elevator," the FBI official told CNN.

An anonymous source working on the investigation told CNN that authorities are now in possession of security footage showing Campos smuggling the firearms used in the massacre in through a Mandalay Bay loading dock in the days leading up to the event.
---
https://freedomdaily.com/breaking-vegas ... eres-know/
It's been almost two weeks since the Las Vegas massacre took the lives of 58 concert-goers, and there seems to be more unanswered questions at this point than ever before. The mainstream media as well as the Las Vegas police department have been caught in multiple lies leading many of us to believe that we have been fed a giant pile of BS up until this point. Now the sole witness who could have proven the truth about Las Vegas has mysteriously just been found dead, as a massive scandal rips across social media today.
With authorities and possibly top-level government agents now participating in an active cover-up, just how frantic and determined are these liars going to be at stopping the truth from coming out? Would they actually KILL Americans in order to BURY the truth about Las Vegas? According to breaking reports, it sure appears to look that way.
Up until Kymberley Suchomel was found mysteriously dead in her home on Wednesday in the early morning hours, the 26-year-old was very vocal in her assertion that there were multiple gunmen involved in the shooting. She had spoken to multiple news agencies about the truth of what happened that night and was determined to not let the trail of evidence run cold.
---