A Nice Place To Be.
SARIAH Latter-day Saint, Australia. Pro-White Nationalist.
---
"It is completely possible to have a painless, non-tearing, happy, healthy birth. "Hypnobirthing - The Mongan Method" the way birthing is meant to be.

The body knows how to deliver a baby. All a mother-to-be has to do is relax. Hypnobirthing teaches a mother how to let go of negative beliefs and deal with past emotions and traumas so that during the labor she can simply relax. It teaches how to go into deep relaxation which allows the body to do its thing. When we tell a woman to "push", what she does is flex the wrong muscles, tightening the opening and forcing the "delivery" muscles in the uterus to quit working as they are supposed to.

- Mothers have a higher risk of post-partum if they had an epidural
-Mothers have a more difficult time bonding with their baby if they had an epidural
-The mother's body does not release the huge amount of oxytocin to suppress the pain and cause the above-mentioned bonding.
-Babies absorb the drugs from the epidural which lowers their heart rate and makes them less responsive and more prone to complication like not breathing.

There are so many other things wrong with the way hospitals do birth, such as clamping the umbilical cord when a very high percentage of the baby's blood is still in the placenta. This blood is transferred to the baby naturally when the cord is left unclamped and the baby nurses. Nursing causes the uterus to contract, pushing the blood out to the baby, and jump-starting the healing for the mother. But babies are being born drugged, having their life (blood) stolen and being rushed off by nurses to deal with the effects of the drugs and other labor complications caused by epidurals, pushing, and having their cord cut. And they are bathed, removing their completely harmless and sanitary protection, putting them at risk of all the pathogens in the air.

Babies do not need to be encouraged to breath by pinching. Babies do not need to have their faces wiped or be bathed. Babies do not need drugs injected into them through needles. Breastfeeding gives babies all the antibodies the mother has produced over a lifetime. Babies are traumatized from the moment a mother goes into labour.

Babies need to be born in a quiet, non-intrusive, dimly lit environment. The baby needs to remain connected to the placenta until the placenta is "milked dry" and needs to nurse and be left alone by everyone and given a chance to just be held skin-to-skin by mother."
SARIAH Latter-day Saint, Australia. Pro-White Nationalist.
---
https://www.medpagetoday.com/blogs/revo ... tion/72407
by Milton Packer MD
April 18, 2018
"Pharmaceutical companies are developing new drugs in only two therapeutic areas these days -- cancer and rare diseases. Why? These are the only therapeutic areas where exorbitant pricing is tolerated by payers.
How exorbitant are we talking about? Most new drugs for cancer and rare diseases are being priced above $400,000 a year per patient. Some drugs are being priced at $1 million per treatment. And prices continue to soar.
Who loses from this pricing practice? You might think the patients with cancer or with rare diseases are most likely to suffer. But that isn't true.
To cover these exorbitant costs for even a small number of people, payers slash their expenditures in other therapeutic areas, and these cuts affect millions of people. For example, instead of agreeing to pay for the best treatment for diabetes for $1,500, payers approve the use of a second-rate treatment for $75. Physicians are not good at challenging payers, so most patients will get the second-rate treatment.
So the patients who lose the most are typically those who do not have cancer or rare diseases. Actually, nearly everyone else loses when a company prices a novel drug at extreme levels.
Last week, things took a turn for the worse.
According to an article by Tae Kim on CNBC, Goldman Sachs issued a report (by Salveen Richter) that suggested that drug developers might want to think twice about making drugs that were too effective. Richter's report, entitled "The Genome Revolution," was issued on April 10 and says:
"The potential to deliver 'one shot cures' is one of the most attractive aspects of gene therapy, genetically-engineered cell therapy and gene editing. However, such treatments offer a very different outlook with regard to recurring revenue versus chronic therapies.... While this proposition carries tremendous value for patients and society, it could represent a challenge for genome medicine developers looking for sustained cash flow."
The translation: if you develop a new drug that cures people rapidly, then patients will not need to take the drug on an ongoing basis, and that limits the amount of money a company can make.
The analyst asks: "Is curing patients a sustainable business model?"
The "problem" appears to be particularly great if the disorder in question is a transmittable disease. The Goldman Sachs report cites the example of Gilead Sciences (ticker symbol GILD), which gained approval for its novel hepatitis C treatment Sovaldi in 2013, followed by Harvoni less than a year later.
Their introduction was a landmark event -- for two reasons. First, they provided a near-certain cure for hepatitis C in 12 weeks. Fantastic! Second, they were among the first of a series of drugs to be priced at exorbitant levels. When Harvoni was introduced, a 12-week course in the U.S. cost $94,500. Interestingly, in India, the same 12-week course of treatment cost only $900. (I assume that the company was still making a profit on its sales in India.)
Was this outrageous pricing good enough for Goldman Sachs? Apparently not.
In her report, Ms. Richter notes that U.S. sales for the hepatitis C treatments peaked at $12.5 billion in 2015, but have been falling ever since. Goldman estimates the U.S. sales for these treatments will be less than $4 billion this year. Ms. Richter laments this development.
She writes: "GILD is a case in point, where the success of its hepatitis C franchise has gradually exhausted the available pool of treatable patients," the analyst wrote. "In the case of infectious diseases such as hepatitis C, curing existing patients also decreases the number of carriers able to transmit the virus to new patients, thus the incident pool also declines."
"[Gilead]'s rapid rise and fall of its hepatitis C franchise highlights one of the dynamics of an effective drug that permanently cures a disease, resulting in a gradual exhaustion of the prevalent pool of patients," the analyst wrote. "... diseases such as common cancers -- where the 'incident pool remains stable' -- are less risky for business."
So will a company that wants to develop a real cure for an infectious disease have trouble getting financing?
Just imagine a company has a new drug that can cure a disease in >90% of patients with one dose.
The imagined response from investors: That is great. But your drug is too effective. You won't be able to generate sustainable cash flow with that kind of business plan.
The obvious suggestion: Could you possibly make the drug a bit less effective, so that people would need to continue to take it on an ongoing basis, so you would be able to generate more money?
The company says no.
The imagined response: Well, if you insist on making a drug that cures with one dose, we would recommend charging a king's ransom for it. Could we propose that you charge $1 million for a course of treatment?
Do you think such a figure is exaggerated?
Early this year, Spark Therapeutics introduced its new drug (Luxturna) for a rare form of blindness. It promises a cure with a single dose. The price tag is $425,000 per eye. That means $850,000 for a cure.
And it gets worse.
In 2012, a company called uniQure N.V. marketed Glybera (tiparvovec) for the treatment of lipoprotein lipase deficiency at a price of $1.6 million per treatment. After one patient in the entire world was treated, no one seemed excited about prescribing the overpriced drug, and the company did not renew its marketing license.
What do these examples teach us? We have not reached the limits of scientific innovation. But we have reached the limits of common sense and common decency.
When the most important investment banking enterprise in the world wonders whether it is a good idea to support companies that want to develop cures, we truly have reached rock bottom.
What is next for health care? We always knew that prolonging life was expensive. Now it seems that curing people isn't profitable enough.
Want to make money? Develop drugs that cure nothing, but yet promote long-term use and dependency, and shorten life. Bankers and payers will love it.
Oops! I forgot. We have those drugs already. They're called opiates."
SARIAH Latter-day Saint, Australia. Pro-White Nationalist.
---
https://www.youtube.com/watch?v=rBUGVkm ... e=youtu.be
"Burzynski, the Movie is an internationally award-winning documentary originally released in 2010 (with an Extended Edition released in 2011) that tells the true story of a medical doctor and Ph.D biochemist named Dr. Stanislaw Burzynski who won the largest, and possibly the most convoluted and intriguing legal battle against the Food & Drug Administration in American history.
His victorious battles with the United States government were centered around Dr. Burzynski's gene-targeted cancer medicines he discovered in the 1970's called Antineoplastons, which have currently completed Phase II FDA-supervised clinical trials in 2009 and has been given permission by the FDA to begin the final phase of FDA testing--randomized controlled clinical trials.
When Antineoplastons are approved, it will mark the first time in history a single scientist, not a pharmaceutical company, will hold the exclusive patent and distribution rights on a paradigm-shifting medical breakthrough.
Antineoplastons are responsible for curing some of the most incurable forms of terminal cancer. Various cancer survivors are presented in the film who chose these medicines instead of surgery, chemotherapy or radiation - with full disclosure of medical records to support their diagnosis and recovery - as well as systematic (non-anecdotal) FDA-supervised clinical trial data comparing Antineoplastons to other available treatments—which is published within the peer-reviewed medical literature.
One form of cancer - diffuse, intrinsic, childhood brainstem glioma has never before been cured in any scientifically controlled clinical trial in the history of medicine. Antineoplastons hold the first cures in history - dozens of them.
[ Read completely Phase 2 clinical trial reports and other pee-reviewed data on Antineoplastons:
http://burzynskimovie.com/index.php/c
...
]
This documentary takes the audience through the treacherous, yet victorious, 14-year journey both Dr. Burzynski and his patients have had to endure in order to obtain FDA-approved clinical trials of Antineoplastons.
Dr. Burzynski resides and practices medicine in Houston, Texas. He was able to initially produce and administer his discovery without FDA-approval from 1977-1995 because the state of Texas at this time did not require that Texas physicians be required to adhere to Federal law in this situation. This law has since been changed.
As with anything that changes current-day paradigms, Burzynski's ability to successfully treat incurable cancer with such consistency has baffled the industry. Ironically, this fact had prompted numerous investigations by the Texas Medical Board, who relentlessly took Dr. Burzynski as high as the state supreme court in their failed attempt to halt his practices.
Likewise, the Food and Drug Administration engaged in four Federal Grand Juries spanning over a decade attempting to indict Dr. Burzynski, all of which ended in no finding of fault on his behalf. Finally, Dr. Burzynski was indicted in their 5th Grand Jury in 1995, resulting in two federal trials and two sets of jurors finding him not guilty of any wrongdoing. If convicted, Dr. Burzynski would have faced a maximum of 290 years in a federal prison and $18.5 million in fines.
However, what was revealed a few years after Dr. Burzynski won his freedom, helps to paint a more coherent picture regarding the true motivation of the United States government's relentless persecution of Stanislaw Burzynski, M.D., Ph.D.
Note: When Antineoplastons are approved for public use, it will allow a single scientist to hold an exclusive right to manufacture and sell these medicines on the open market—potentially leaving the pharmaceutical industry absent in profiting from the most effective gene-targeted cancer treatment the world has ever seen."
.
SARIAH Latter-day Saint, Australia. Pro-White Nationalist.
---
Blue pansies
SARIAH Latter-day Saint, Australia. Pro-White Nationalist.
---
Chicory
SARIAH Latter-day Saint, Australia. Pro-White Nationalist.
---
"Oftentimes described as "toxic cocktails," many vaccines contain XE "toxic cocktails" which are live and dead animal viruses that have been cultured in monkey kidney tissue, cow tissue, goat tissue, pig tissue, and even aborted human fetuses. Vaccines contain any combination of the following: thimerosal (a mercury derivative), aluminium, formaldehyde (carcinogenic embalming fluid), phenol, ethylene glycol (antifreeze), live viruses, bacteria, and acetone, among other things, these are all lethal substances that are also potentially carcinogenic. But mercury derivatives, aluminium, and formaldehyde are ingredients in most vaccinations. How is it possible that they are safe? According to Dr. James R. Shannon, former director of the National Institute of Health reported in December, 2003 that "the only safe vaccine is one that is never used."
I am no longer "trying to dig up evidence to prove" vaccines cause autism. There is already abundant evidence…. This debate is not scientific but political.
—Dr. David Ayoub, M.D.

The greatest lie ever told is that vaccines are safe and effective.
-Dr. Len Horowitz."
SARIAH Latter-day Saint, Australia. Pro-White Nationalist.
---
"There's no safe level of exposure to tobacco products, smokeless or combustible. Cigarettes, e-cigarettes, cigars, dipping tobacco and hookah all qualify as tobacco products. The CDC states smoking causes more deaths each year than HIV, illegal drug use, alcohol, motor vehicle accidents and firearm-related accidents combined."
SARIAH Latter-day Saint, Australia. Pro-White Nationalist.
---
Wet Wipes Increase Your Child's Risk of Allergies
"Researchers warn the routine use of wet wipes appears to be a significant contributor to the rise in childhood food allergies
• Chemicals found in wet wipes can break down the top layer of skin, allowing the skin to absorb allergens that can trigger allergic reactions, especially if your child carries genes that alter their skin absorbency.
Quest for clean may be doing more harm than good, the chemicals used, such as preservatives and fragrances, can cause painful skin irritation. "
SARIAH Latter-day Saint, Australia. Pro-White Nationalist.
---
Anemone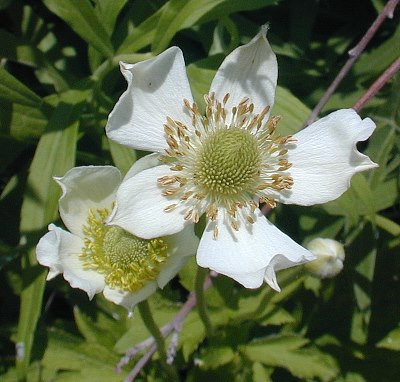 SARIAH Latter-day Saint, Australia. Pro-White Nationalist.
---